Nail Polish Storage & Organization Ideas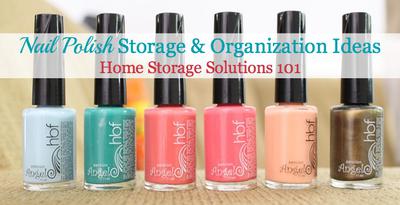 Below I've gathered quite a few nail polish storage and organization ideas, with pictures, shared by readers.
This may seem a silly topic if you've just got one or two bottles of nail polish, but for some doing nails is a passion and they've got LOTS of bottles to deal with.
If that describes you I've got some great ideas below for how you can store everything, and find the polishes you want when you want them.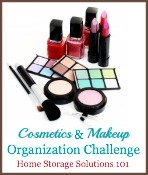 This organizational task is part of the
Cosmetics & Makeup Organization Challenge
on the site, so if you'd like inspiration for all your makeup and personal care products make sure you check it out.
Things To Consider Before Choosing A Storage Solutions
Things to keep in mind when deciding which storage solution is best for you include the following:
1)
Do you want to display your polishes, or keep them out of public view?
Some people are quite proud of their collections, so putting them on a counter or mounting a rack on the wall sounds great. For others this would feel like an eye sore.
2)
Consider how big your collection is now, and how big it will be in the future.
Obviously, using an organizing product that only holds some of your collection will not fit the bill.
3)
Do you want the polishes to be portable?
Do you always do your nails at your own home, or do you take your polishes to other locations? A wall rack won't work for someone who needs to carry them polishes around, but in that situation an organizing case with a handle may be better.
4)
What brands of nail polish do you favor?
There is no standard size for nail polish bottles and each brand has their own signature size and shape. When considering
which type of organizer to use you've got to think about both the height of your bottles, as well as their width.
Some of the most difficult bottles to accommodate include for the brands OPI, Essie, Butter, and China Glaze. Just keep that in mind and make sure what you choose will fit your preferred brands. Nothing is worse than getting something that is just a bit too small for the bottles you use regularly.
What's The Shelf Life Of Nail Polish?
Anyone with a big nail polish collection has had some of those polishes for years and years. That's because practically it takes a LONG time to use up a bottle of lacquer, top or base coat, etc. if you've got lots of different ones to choose from.
Unlike some makeup there is no official expiration date for polishes. (I've got a
cheat sheet with makeup expiration dates here
if you're interested!)
So really, the best thing to do is just focus on whether the polish looks and feels right as its applied. Older polishes past their prime tend to get clumpy and its much harder to apply an even coat.
If shaking doesn't allow a remixing of the ingredients and it remains clumpy it is practically time to throw it out.
As long as you keep your polishes in a temperature controlled environment (don't let them get too hot, for example) and out of direct sunlight though, they should theoretically last for a long time.
So now, without further ado, check out these cool storage solutions you might like to use for your own collection! And don't forget, if you've organized or displayed your own polishes I'd love to see how you do it. You can
click here to submit your photos
and I'll add them to the page.


Top photo courtesy of Lelê Breveglieri
Join in and write your own page! It's easy to do. How? Simply click here to return to bathroom clutter.
Organizing Nail Polishes In Drawer Using Drawer Organizer
by Josie
Josie shared this picture of how she organizes her collection.

She did not want to display it, but instead wanted to keep it concealed in a bathroom drawer.

So, to keep all the bottles from getting jumbled she added a drawer organizer, which had several dividers.

To accomplish something similar you could perhaps use a silverware organizer, or you could customize the size of your dividers yourself if you used drawer dividers.


***Update: I also got this really good tip from another reader, for easily finding the color you want when you've got them stored in a drawer, and can only see the tops of the bottle easily. She said:
You can use color dots made with the actual nail polish to mark the top of the bottles if you have drawer storage setup. This makes it faster to find the color you are looking for since you won't have to lift each bottle out of the drawer to see it's color.
***End update
Join in and write your own page! It's easy to do. How? Simply click here to return to bathroom clutter.
Consider A Wall Nail Polish Rack For Large Collections
by Joanne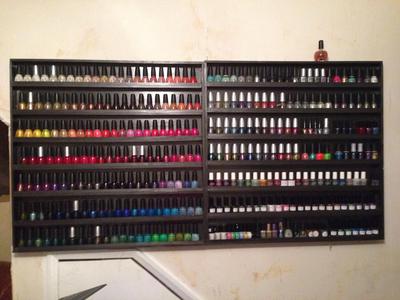 A reader, Joanne, shared this picture of her very impressive collection.

As you can see she uses a very large wall mounted rack to hold all of her polishes. She actually made this rack herself!!!

Obviously, if you mount something on the wall it will be a display feature in the room, but if you are proud of the collection there's no reason not to show it off, right?

Here's another example, this time of a metal rack:


Metal Wall Mounted Rack, Fits Up To 100 Bottles
Click here to purchase on Amazon.com
Second photo courtesy of Lauren J. via Amazon.com
Join in and write your own page! It's easy to do. How? Simply click here to return to bathroom clutter.
Acrylic Nail Polish Wall Racks Are Affordable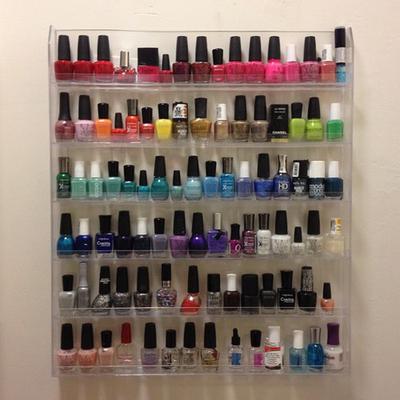 I showed a couple of racks above that can be placed on your wall.

The ones above were wood and metal. Another popular choice are acrylic racks.

These are quite popular products on Amazon that many people have purchased for storing their large nail polish collections.

You can purchase the one shown above here
(via Amazon.com).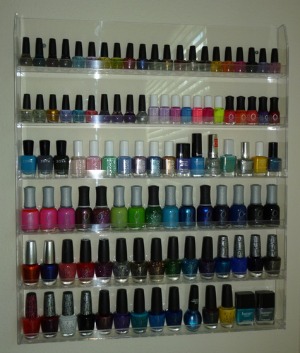 90 Bottle Nail Polish Rack
Click here to purchase on Amazon.com

These racks work well for a very large collection. The ones pictured hold between 90 and 96 bottles.
First photo courtesy of Kate Bryant via Amazon.com
, and second photo courtesy of R. Miller via Amazon.com
Join in and write your own page! It's easy to do. How? Simply click here to return to bathroom clutter.
Nail Polish Display Wall Rack Using Spice Racks
by Stacey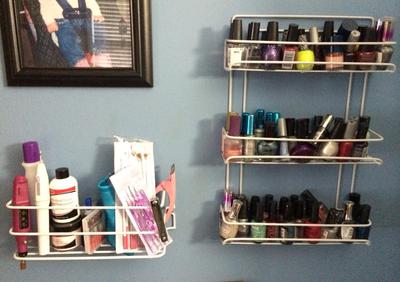 Stacey says:
I purchased these Grayline cabinet racks from Amazon. The one the nail polish is holding is actually a spice rack so I figured it would hold the nail polish the way a salon displays polish and it does perfectly but less expensive than a real polish rack.
I normally don't like to have stuff displayed openly but we have 3 teen girls that love to do their nails so having a small nail station in my office works out great for us.
My daughters and I enjoy doing our nails and always had them stored away neatly but one day while at the salon I got the idea of dedicating one area of my "girl cave" as our own lil nail salon they are now above a lil nail table.
The other rack holds all of my other nail supplies keeping everything together and being in my office still keeps it out of the way and still pretty much out of sight, kind of like a dedicated nail salon area.
Also once I am done redecorating my entire office it will all tie in with the "style" as well since this is just a small area.
If anyone else wanted to do this but didn't have the same space or just didn't want to see it hanging on the wall as I have it, it could also be hung inside a cabinet or inside a closet.
It doesn't necessarily have to be hung directly on a wall, it's just how we chose to do it.
Join in and write your own page! It's easy to do. How? Simply click here to return to bathroom clutter.
Hanging Jewelry Organizer For Nail Polishes Does The Trick
by Shawna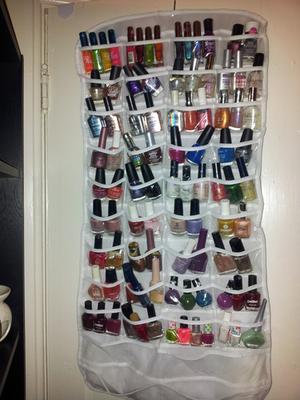 I used a hanging jewelry organizer.
One side is all my polishes and the other side is all my removers, files, clippers, stamps and other nail tools.
I love it and it is so convenient. I can move it where ever!
When my gal friends come over I move it and hook it on the kitchen cabinet next to the dining room table and we all sit there and paint!!
***Update: Another reader, Lori, suggested a similar method that she uses, but that works when you've got a smaller collection. She said:
I use a hanging bathroom travel organizer. That way, you can hang it or travel with it.
Here's an example of such an organizer:
***End Update
First photo courtesy of photo courtesy of LaPana via Amazon.com
and second photo courtesy of bailey via Amazon.com
Join in and write your own page! It's easy to do. How? Simply click here to return to bathroom clutter.
Portable Nail Polish Storage Case With Handles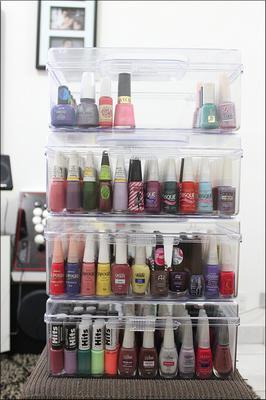 If you need to move your polishes around a rack or countertop organizer will not work well for you.

However, they've got several different ways to organize these for the go as well.

The picture above shows clear drawers, which may work well for you. But remember, when you pick them up to move them they will slide around and you definitely don't want them to break.

So, ideally the case you choose will have compartments which allow you to carry everything around without moving too much, such as shown below.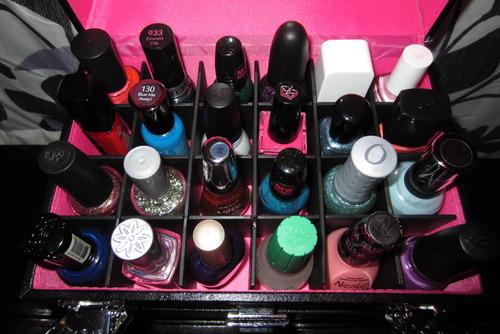 Nail Polish Organizer Case
Click here to purchase on Amazon.com
Here are some examples of cases available through Amazon:
Note: When choosing a case like this it is especially important to make sure that neither height nor width of the bottles will become a problem with your chosen container.
Definitely look at the reviews for your preferred polish brands and make sure that the brand's bottles fit easily in the slots or you'll be disappointed in what you choose.
First photo courtesy of Lelê Breveglieri, and second photo courtesy of Jessica via Amazon.com
Join in and write your own page! It's easy to do. How? Simply click here to return to bathroom clutter.
Tiered Counter Nail Polish Organizer
Here's a good solution if you want to keep your polishes on a counter, but have only a medium-ish sized collection -- a tiered organizer.

It helps you see all your bottles, and grab what you want a lot more easily than some of the bowl ideas shown below.

This particular one pictured holds up to 60 bottles, and is advertised to hold some of the more difficult to fit brands, such as OPI, Essie and China Glaze.


If you've got an even bigger collection, a stair step shelf may just be the thing for you. Here's a picture of one that a reader, Niki, had her husband build for her. Look at her collection, it's amazing!
Niki says: "I do a lot of crafts with nail polish. My husband made a wooden stair step shelf to fit within a shelf on a bookshelf for me."
First photo courtesy of jpLI via Amazon.com
Join in and write your own page! It's easy to do. How? Simply click here to return to bathroom clutter.
Ikea Helmer Drawer For Serious Nail Polish Collectors
by HSS101 Reader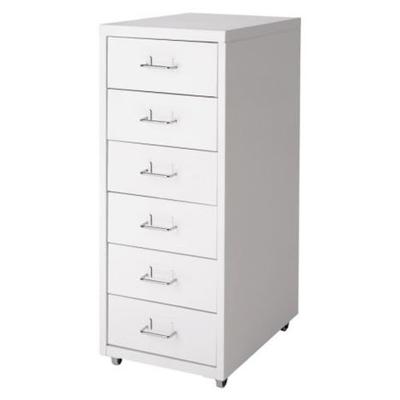 If you're serious about polish you already know what I'm talking about. The Helmer is a five drawer metal cabinet used by nail fanatics to store nail polish.

They're sold at IKEA and come in different colors.


Join in and write your own page! It's easy to do. How? Simply click here to return to bathroom clutter.
Keep All Your Manicure Supplies Together In A Basket
by Jacqui
This photo was sent in by a reader, Jacqui, who explained, "I recently moved and organized my bathroom. Here is all my manicure supplies in one basket in my bathroom closet."


Join in and write your own page! It's easy to do. How? Simply click here to return to bathroom clutter.
For A Smaller Collection Why Not Try A Vase On A Counter?
by Danielle
A reader, Danielle, sent in this picture sharing how she and her young daughter stored their polishes.

Danielle said, "We take the jar and dump it out on an old sheet after bath time. My daughter likes sparkles."

If the polishes you use aren't expensive and high quality, like some of these high-end name brands, but just fun stuff for you and your daughters to use, then this might just fit the bill!
Join in and write your own page! It's easy to do. How? Simply click here to return to bathroom clutter.
An Elegant Glass Bowl Can Also Display A Small Collection
by Marie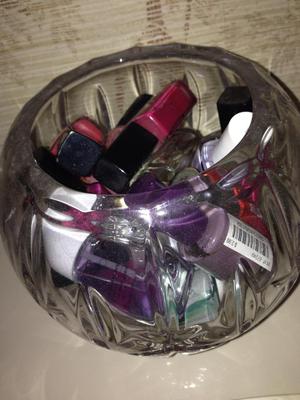 A similar idea sent in by another reader, Marie, is to use, instead of a vase, a pretty cut glass bowl.

Often these are seen in the kitchen, but what a nice way to display a piece that might not otherwise get used much in your home.

Marie says, "My MIL gave me this beautiful cut glass bowl. I get to see it every day instead of in a kitchen cabinet and seeing it on occasion. I know some of you will hate this idea but I like it."

Well, I don't know if anyone hates the idea Marie. I like it, and it fits your small number of bottles quite well. I think it's great!


Are You Inspired To Get Organized Now?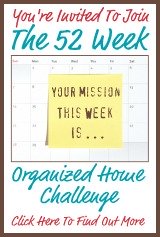 I hope these ideas have gotten you excited to organize your home.
If you've caught the organizing bug now, I'd love it if you'd
join the 52 Week Organized Home Challenge
with me. As you can (hopefully) tell from the name this series gives you a different organizing challenge each week in your home, so that over the course of the year you can get the whole house decluttered and in tip top condition.
In addition, if you do work on getting your nail polishes in order I'd love to see how you chose to do it. You can
share your pictures here
and I'll add them to the page!
Some links on this page are affiliate links, meaning that if you purchase a product through them I receive a small commission which helps me provide this information to you for free, plus support my family. My integrity and your satisfaction are very important to me so I only recommend products I would purchase myself, and that I believe would benefit you. To learn more please see my disclosure statement.
Related Pages You May Enjoy
Getting Clutter Free In 15 Minutes A Day Hall Of Fame
Getting Rid Of Bathroom Clutter Hall Of Fame
Cosmetics & Makeup Organization Challenge
Go From Nail Polish Storage Ideas To Home Page