How To Deal With Stress Naturally
Free Stress Management PDF
Learning how to deal with stress naturally is a large part of living an organized and happy life.
Don't let your long to do list get you down. Instead, take advantage of this free stress management PDF to guide you through self-meditation or self-hypnosis to relieve your stressful feelings.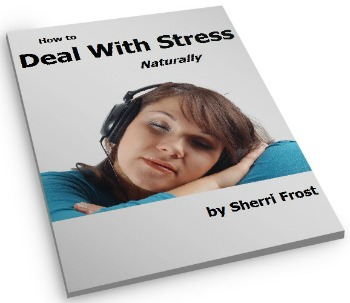 Click Here To Get Your Free Stress Management PDF
(opens into new window, as PDF)
More Information About The How To Deal With Stress Naturally Ebook
Everyone has to deal with stress in their lives, but the key is how you handle it.
Part of the reason many people want to get organized is to relieve some of the stress in their lives that comes from a cluttered and unorganized home.
However, home organization and being personally organized can only go so far in the stress relief department. Life happens and stressful events occur. When they do, it is good to have some stress management techniques to rely upon to relieve your tension and make yourself feel better, naturally.
That's why my friend, Sherri Frost, from Hypnosis-Self-Help.com has written this short workbook especially for Home Storage Solutions 101 readers.
In it she explains how to use self-hypnosis to help yourself relax.
Now, don't get too concerned about the word "hypnosis." What she's describing is much like meditation, and using the power of your own mind to learn how to deal with stress. I like this quote from the PDF, where she explains:
Some use meditaion to relieve stress and it certainly is a valuable tool. Why not take it to the next level and use self hypnosis? It's like meditation with purpose. The purpose is to enjoy the feeling of complete relaxation.
Sherri provides you with the three steps to relaxation with self-hypnosis, including a script you can use to help yourself relax.
Finally, if you're interested in some hypnosis mp3s to help guide you further, she's giving a special discount to Home Storage Solutions 101 readers for half off! That means these mp3s only cost $5 if you purchase them through the special link in the stress management PDF workbook.
Click here to download your free copy of this ebook now.
Be Sure To Enter Even More How To Organize Your Life Giveaways!
If you've enjoyed this giveaway, please make sure to check out what else I've got in store for the How To Organize Your Life Week of Giveaways, celebrating 25,000+ newsletter subscribers.
I've got 16 different giveaways coming, over the course of the week, including several absolutely free gifts everyone can receive!
Click here for the full list of giveaways and free resources.
In addition, I would appreciate you sharing this page with your friends and family, such as with the social media buttons below, or otherwise, to tell them about this free gift about how to deal with stress naturally.
Finally, if you're interested in why so many people have subscribed to my newsletter, check out the 52 Weeks to an Organized Home Challenge, which we've all been enjoying doing together. I'd love for you to join us, if you aren't already a newsletter subscriber!
Some links on this page are affiliate links, meaning that if you purchase a product through them I receive a small commission which helps me provide this information to you for free, plus support my family. My integrity and your satisfaction are very important to me so I only recommend products I would purchase myself, and that I believe would benefit you. To learn more please see my disclosure statement.