How To Build Self Confidence
Course For Personal Empowerment
If you're wondering how to build self confidence, to empower yourself to acheive your dreams for both personal and professional development, the Simple Self Confidence course can help you.
You may be wondering why I've written this page, to share information with you, on a home organization blog, about self confidence.
The Link Between Self-Confidence And Home Organization
Although, at first it may seem this would be a stretch, I have found in my own continuing journey with organization and home management, that the way we feel about ourselves actually has a great impact on how we treat our environment, including our homes.
Therefore, home organization is a process that deals with both the physical, dealing with clutter and finding homes for the things in our homes, but also it is mental. It involves changing our routines and habits, but also the way we think about ourselves and our possessions.
As such, learning how to build self confidence can be important in giving us the mental tools necessary to tackle our organizational issues, and make lasting changes in our physical environment.
My friend Barrie Davenport, along with Erin Falconer, have created a four week online course, called Simple Self Confidence, which will be running from March 3-30, 2012, to help give you the skill to learn how to build self confidence.
Exclusive Interview With Barrie Davenport About How To Build Self Confidence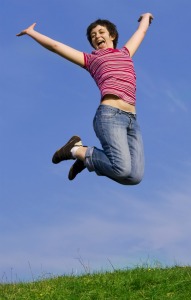 Here's an exclusive intereview with one of the course instructors, Barrie Davenport, to help you learn more about what self-confidence is, and how to build self confidence yourself, beginning today.
Taylor's question: How do you define self confidence?
Barrie's answer: Self confidence is the feeling of assurance in who you are — in spite of your life circumstances or achievements.
It is the ability to love and accept yourself, flaws and all, and view yourself from a perspective of optimistic realism and acceptance.
A self confident person knows who they are, how they want to live, and can quickly move past failures and mistakes after an appropriate period of grief and self-examination.
Taylor's question: I often think of self-confidence as something that people need in their professional lives, but it's not something I think of right away when I think about our personal lives. How does self confidence, or lack thereof, effect our home life?
Barrie's answer: It can affect everything from your relationships to your appearance, depending on the area of life in which you lack confidence.
If you lack confidence, you will show it in your appearance -- the way you stand, the expression on your face, your weight, how you move and dress.
A lack of self confidence can impact how you interact with your spouse or other family members. You lose your sense of appropriate boundaries and tolerate behaviors or situations you might not otherwise.
It can even force you to spiral into anxiety or depression if you have deeply-rooted feelings of low self-confidence and low self-esteem. And these emotional difficulties will impact every part of your life, creating a self-fulfilling prophecy of chronic low self confidence.
Taylor's question: As you become more self-confident what are some of the positive impacts you may see in your personal and home life, and why?
Barrie's answer: When you feel good about yourself and your abilities, you exude positivity and enthusiasm. Those are very attractive qualities. People want to be around positive, self-confident people. The more people are attracted to you, the more self-confident you feel, and therefore you are able to be more successful in whatever you do. Again, a self-fulfilling prophecy!
Taylor's question: What is one small thing we can each begin today to help us become more self-confident?
Barrie's answer: Begin challenging and changing your thoughts. Most self-confidence issues stem from scenarios that might have once been true but are no longer true or don't have the impact or significance that we attribute to them.
Challenge negative thinking and replace those thoughts with positive thoughts to the contrary. It takes practice for it to feel natural, but eventually your new thinking will change the way you feel as well.
More Details About The Simple Self-Confidence Course
If you're interested in learning how to build self confidence, to help you with any areas of your life, I encourage you to click here to learn more about this online course.
As I stated before, it runs for four weeks, from March 3-30, 2012. Webinars will be held on Thursday evenings during the course, but they will all be recorded so you can listen to them whenever you wish.
Registration begins today, February 27, 2012, and there is an early bird discount if you register soon. From 9:00 a.m. today, February 27th, until 9:00 a.m. Wednesday, the 29th, the course is $197. After that time, it is $297.
Click here to learn more about the course, and purchase your spot today.
Some links on this page are affiliate links, meaning that if you purchase a product through them I receive a small commission which helps me provide this information to you for free, plus support my family. My integrity and your satisfaction are very important to me so I only recommend products I would purchase myself, and that I believe would benefit you. To learn more please see my disclosure statement.