Holiday Decoration Storage Ideas: Hall Of Fame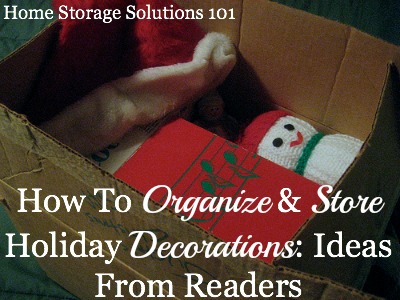 Below I've collected ideas for holiday decoration storage from readers.


The most prevalent type of decorations most people have are those for Christmas, but really these ideas will work for any holiday, including Halloween, Easter, Valentine's Day, etc.
In addition, they'll also work for seasonal decorations, such as those for spring, summer, fall or more general winter type of items.
Along with these ideas from readers I've written an entire article on this topic as part of the
52 Week Organized Home Challenge
.
If you need more help check out my suggestions for
decoration organization and storage here
.
Photo courtesy of nightthree
Join in and write your own page! It's easy to do. How? Simply click here to return to holiday clutter.
I Store My Christmas Items In Boxes Based On What Room They Go In
by Julie
I store items according to where I use them, like the "front porch", "Christmas tree", "entry way", box includes the garland, lights, wreaths, and misc. decorations that I use in that area.

There are locations that I don't decorate every year because of time issues or what ever.

If I only want to decorate the porch I don't have to get into 5 different categories of boxes.

There have been years when, if I had to search all those boxes just to do one area, I wouldn't decorate at all.
Join in and write your own page! It's easy to do. How? Simply click here to return to holiday clutter.
I Tape Christmas Inventory Form To Outside Of Box
by Carol
Carol says:
I'm printing your Christmas inventory form and I tape the form on the outside of the bin so I can see it.
That's just what works for me, so thought I would share.
Taylor says:
Thanks Carol for sharing that idea.
I typically suggest holding your
Christmas storage inventory form
(click the link to get your own printable version for free right on this site) in a more central location, but if this works for you, awesome!
There is always more than one way to organize and store items.
It is always important to label what you have in your boxes or other storage containers in some way so that you can find what you want relatively easily. This obviously works quite well as a detailed label!
Does anyone else have suggestions or ideas for how they organize or store their holiday decorations? If so,
click here to share your ideas or pictures
and I'll add them to the page.
Related Pages You May Enjoy
Creative Storage Solutions & Home Organization Hall Of Fame
Christmas Storage Solutions & Holiday Organizing Ideas
Go From Holiday Decoration Storage Ideas To Home Page