August Declutter Calendar
15 Minute Daily Missions For Month
Here's the August 2013 declutter calendar with a daily 15 minute decluttering and organizing mission for each day of the month.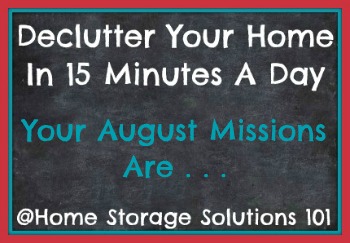 Remember, here are the ground rules:
1. Work for 15 minutes to declutter and do the mission listed, and if you need to work longer, and have the time, go for it. However, don't feel obligated to.
2. You can print off the printable version of this calendar (see below) to post on your fridge or some other area of your home to remind you what the daily mission is.
3. You can also follow me through social media, including Facebook, Google + and Twitter, to get a daily reminder of the day's mission.
4. You can sign up to get emailed a link to each month's calendar from now on here, for free.
5. Once you've accomplished any one of these missions you can share your photos of what you have decluttered with me in the Getting Clutter Free Hall of Fame.
Plus, get some inspiration from the quote of the month, below.
August Decluttering Missions:
Day 1 - Declutter and clear out glove compartments of vehicles
Day 2 - Add storage area for resuable grocery bags in cars
Day 3 - Add first aid and emergency kit to car trunks
Day 4 - Declutter suitcases and other baggage
Day 5 - Read Organized Home Challenge #31: Pet Supplies
Day 6 - Declutter pet toys no longer played with
Day 7 - Declutter pet supplies (including old food and treats)
Day 8 - Declutter and create storage space for pet supplies and toys

Day 9 - Declutter old trophies and awards or clear storage or display space for them
Day 10 - Backup computer so don't lose digital records
Day 11 - Declutter stairs (and under the stairs storage areas)
Day 12 - Read Organized Home Challenge #32: Outdoors & Garden
Day 13 - Declutter gardening supplies
Day 14 - Declutter gardening tools
Day 15 - Declutter outside storage shed
Day 16 - Declutter patio
Day 17 - Declutter deck
Day 18 - Declutter yard toys for kids
Day 19 - Read Organized Home Challenge #33: Basement
Day 20 - Declutter junk in basement
Day 21 - Declutter and organize small hardware (nuts, bolts, nails, etc.)
Day 22 - Declutter broken and duplicate tools
Day 23 - Create essential tool chest for everyday home repairs
Day 24 - Declutter utility room
Day 25 - Label boxes in basement storage, and fill out basement storage inventory form
Day 26 - Read Organized Home Challenge #34: Attic
Day 27 - Declutter junk in attic
Day 28 - Continue to declutter junk in attic
Day 29 - Declutter your collections
Day 30 - Declutter collectibles
Day 31 - Create attic storage inventory
Get The August Declutter Calendar Printable
Here's a printable version of the calendar of daily missions that you can use. Enjoy, and good luck! Don't forget to grab your digital badge once you do even one of the missions.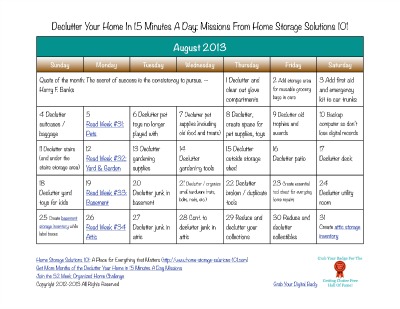 Click Here To Get Your August Printable Calendar
(opens into a new window, as a PDF)
Do You Want Next Month's Calendar Too?
You can also get the September decluttering missions here (including printable calendar).